Web Site Hosting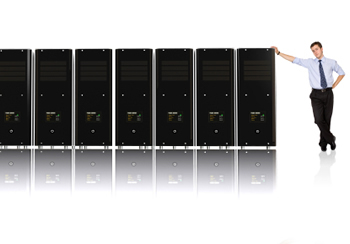 WebLink Studio provides hosting services as a reseller for 3 different hosting services. How does using a reseller benefit you? Nobody wants to have trouble, but truth is, hosting services experience trouble as you do with your personal computer. How fast each service deals with those interruptions makes the difference between a good hosting service and a mediocre one.
WebLink Studio acts as your advocate in these situations. We research the companies that we represent extensively. We have the knowledge and experience to analyze offerings for the benefit of our customers.
Do you have to use our hosting service when we design or maintain your site? Absolutely not. If you are happy with the hosting company you have already, we'll be happy to work with them. However, here are some reasons why hosting through us benefits our customers.
By offering hosting to our web design customers, we can be more efficient and productive. Every hosting service has different rules and settings. We know the ins-and- outs of "our" hosting services, saving you time and costs when setting up your site or when you have a question. Most of the time we know the answer off hand or, research it for you free of charge because it may come in handy for the next customer.
Customer service is through us, meaning you will never be on hold for 1/2 hour because "your call is so important to us". Most of the time we can resolve issues immediately through our reseller control panel. However, we do not have physical access to the servers. Sometimes we need to submit a trouble ticket to the hosting support team so that your issue gets resolved as soon as possible.
We speak hosting support language. When we submit a trouble ticket, it is written in tech terms so that the support team can fix the issue without time consuming back and forth.
We select hosting services that are responsive to the needs of our customers. We test the response time to trouble tickets day and night, before we sign on with a new service. The expected turn-around-time is to be between 2 minutes and 1/2 hour.
"Oh, it must be your computer" does not fly. If several of our customers on the same server have the same problem, it is the hosting service's problem and not yours. Because we have a large number of accounts on each hosting service, we can get to the bottom of issues much faster.
We chose hosting services where the resellers stay in touch with each other through message boards. This enables us to draw on the experience of many more resellers. (See next point)
We know when things go down hill. Nobody wants to think about systems failing. But reality is, wonderful hosting services change ownership or change otherwise. Because we have many accounts with the same company, we can see trends that a single account holder cannot see. This enables us to be proactive before your website becomes unreliable.
Hosting services start at $8/month for a normal business account. Since we buy hosting space in bulk, we don't need to nickel and dime you for extra e-mail accounts or space. Higher fees do apply for special needs like e-commerce accounts or other specialized services. Please contact us with questions concerning your hosting needs.